Investment Management
Portfolio Construction Process
We partner you in taking a step by step approach in developing a long term portfolio based on the needs, wishes and risk assessment.
1. Financial Assessment
We will spend time to understand your current financial situation, cashflow and specific requirements. As well as what would you like to achieve in return.
2. Planning and Setting Goals
We will work with you to identify the objectives and goals. A plan will be set in place to provide a direction on how we intend to reach our target.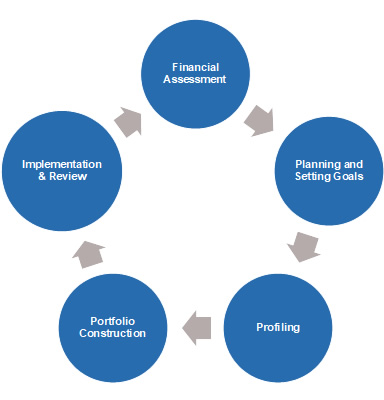 3. Profiling
Developing a clear profile sets the boundaries in which we are able to execute. These will set the dos and dont's in constructing your portfolio.
4. Portfolio Construction
Develop a bespoke investment strategy, normally with a core-satellite approach that is documented in an investment policy statement.
5. Implementation & Review
Strategy is implemented with constant periodic review, reporting and analysis, keeping the process transparent and the structure well under your control.