1. What is a Family Office?
Famous Family Offices
John D. Rockefeller Sr (1839-1937) was an American industrialist and philanthropist. Rockefeller's fortune upon his demise in 1937 stood at US$1.4bn. In 1882, Rockefeller established what was generally considered to be the first modern family office. Now entering its seventh generation with as many as 170 heirs, the Rockefeller family has maintained substantial wealth — they had an $11 billion fortune in 2016 according to Forbes. That's more than 100 years after John D. Rockefeller became America's first billionaire after founding Standard Oil Company in the late 19th century.
The Rothschild empire had its genesis during the 1760s when Mayer Amschel Rothschild (1744-1812) founded a banking business in Frankfurt, Germany. Over time, and with the help of his five sons, the family business expanded throughout several European countries. Before he passed on in 1812, Mayer Rothschild left strict rules for his descendants on how they should handle the family's finances. He wanted to keep the fortune within the family and, as such, encouraged the arrangement of marriages among relatives. Today, Rothschild holdings span a number of industries including, financial services, real estate, mining, energy and charitable work. The family also owns more than a dozen wineries in North America, Europe, South America, South Africa and Australia.
Definition of a Family Office
A family office is effectively a structure dedicated to managing the assets of families. It primarily acts as a "Private Investment Office" for the family
A family office is a privately controlled group of staff employed within or outside a dedicated structure that supports a multi-generational family with the organization, management and maintenance of all or various aspects of their assets, needs and wishes.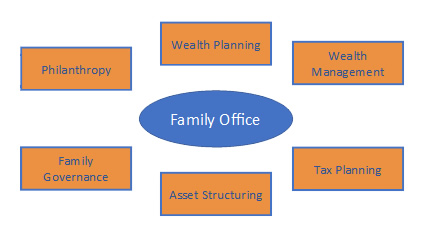 2. Why Setup a Family Office?
Crossing the 3rd Generation
It serves as a platform to manage, protect and grow wealth independently and professionally
It operates hand-in-hand with Family Members, Financial specialists and Legal Advisors during the development of the family office to ensure long term goals are aligned and achieved
It governs the family and personal financial goals through consolidation of 4 core functions

Tax & Legal Services
Consolidation & Reporting
Investment Management
Bridging

To create a Legacy with effective wealth transfer over generations, it is imperative to achieve

Capital preservation
Effective Portfolio management
Specialized & Independent Investment Advice
Transparency on Statements and Fees
Global Asset Allocation of Portfolios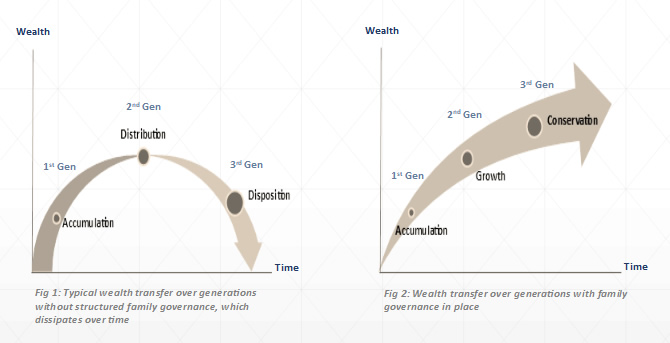 Reasons for a Family Office
Alignment of Interests and Integration of Goals
Financial Security for Owners
Confidentiality of Information
Continuity of the Family
Education of Owners
Customization of Financial Services
Building a Family Legacy
Coordination of Advisors
Development of Wealth Strategy and Investment Strategy
Aggregate Purchasing Power to Access Products with effective Fees
Alignment of Interests and Integration of Goals
Coordination of Trustee and Beneficiary Responsibilities
Organize Your Assets from One Office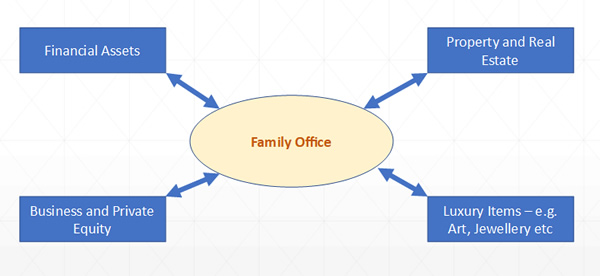 3. Family Office Setup
Setting Up a Family Office
Defining the Status quo
Establishing the family office objectives
Developing the leadership and organizational structure
Location and legal structure
Recruitment of family office staff
Example of Family Governance and Involvement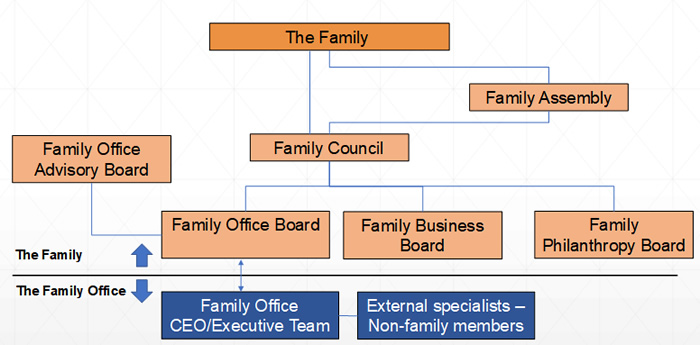 A Governance Structure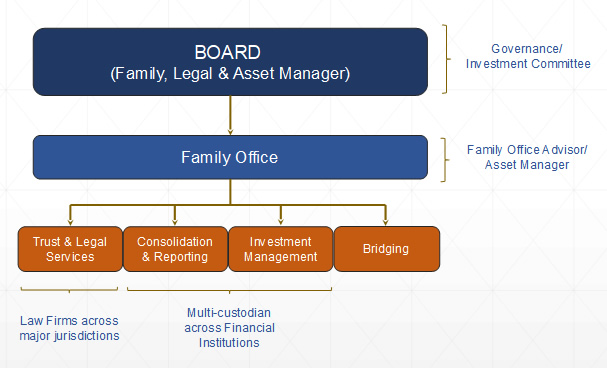 Governance and structure (2)